Helping Professional Women Dress, Without the Stress
Helping Professional Women Dress, Without the Stress
09
Apr
Ambika Singh '07, a member of the Dartmouth Founders Project, talks about shepherding a start-up into a fully-fledged, profitable enterprise
Please tell us about your company and the clients you serve.
Our company is called Armoire, which we describe as a curated closet. It launched in 2016.Our typical customers are professional, working women. For them, choosing and maintaining a work wardrobe can require a lot of effort because there is a lot of nuance involved: a work dress for a meeting at a bank is different than a work dress for a meeting at a tech company, for example. Just to have and maintain all of that while you're living a busy life can be stressful. We focus on saving our customers both time and money.
Armoire members can rent up to eight pieces at a time, which they choose from a collection of 25 to 100 pieces that we have recommended to them. We use a set of algorithms, plus humans, to get insight into what they are looking for, which allows us to act as their best personal stylist.
I am a cofounder and I've raised close to $5 million for this business, so we have investors who are now also owners of the business. We have almost 30 employees, so we also have a real payroll, which is terrifying but something we're grateful to have.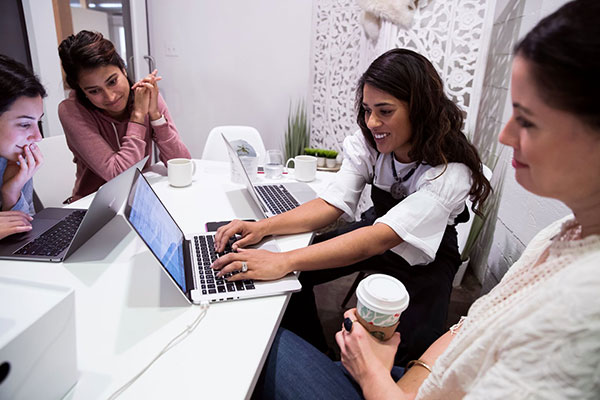 Why do your customers like working with you? What problems are you solving for them?
"The boss lady" client, as we call her, has been largely ignored by fashion. You can observe this by flipping through a fashion magazine, where all the models appear to be in the 20-something range. They don't really represent what this woman's challenges are. Most of our customers are super busy—often working, often moms—so we offer apparel that can stand up to a mom life, with still a bit of fashionable pizzazz.
We love to see people explore, because another way to think about clothing is that it's the armor that you walk out into the world wearing, and maybe you want to change that armor. Or your clothes need to make a certain kind of impact, and we love creating that for a customer. At the end of the day, the clothes we provide bring women joy and reduce hassle for them, which is a real pride point for me.
We carry contemporary fashion with a retail price point around $200 to $300. We have a particular focus on women-owned brands that our customers love to wear and support. Since most of our customers are working women, you'll see fewer feathers and sequins, but a lot of pockets and layering and things that are a more practical for everyday wear.
Our long-term vision is to be able to serve everyone at some scale, but this is an expensive business to run, since we pay for all of the shipping and dry cleaning, as well as owning the inventory. For us to build a real business, we started at the upper end of the income graph so that we could attract that customer and then we will move into a mid-market product over time.
Our biggest markets are Seattle, where we are based, Boston, and New York. We have a lot of Dartmouth women who have been with us from the beginning. The Dartmouth community has definitely done its part to support us, which I very much appreciate.
Why did you decide to join Dartmouth Founders Project?
Dartmouth Founders Project is a great idea, and a great way to pay it forward. The school invests in you when you're not really doing anything, business development-wise. You build on that foundation of support, and the chance to give back to others is really attractive to me. Start-up founders are usually cash-strapped. Right now, I can't really see very far ahead; I'm trying to make the company work. But this is a way to show my intention to help in the future.
I also like that the Founders Project has a community aspect to it, where there is an incredible amount of shared experience for the young companies. It doesn't matter what you're doing, the business challenges are similar. So, to have the opportunity to link up with some of these other people and share our experiences is attractive to me.
What was special for you about your Dartmouth experience?
I came to Dartmouth as a kid and I left with a lot of skills that I really appreciate. My mom was really supportive of me going to Dartmouth. She knew it was likely that my brother and I would continue to live in urban areas. She was attracted to the idea that we would learn to live a little bit differently here. She has always been a big fan of the outdoors because of the peace, and the requirement that you look inside yourself and create your own entertainment instead of always looking for external things to excite you. I'd especially love kids from urban areas to be able to go to Dartmouth and take away a set of skills similar to what I acquired.